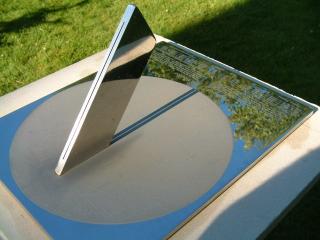 There are threemodels of the Spot-On Sundial in stainless steel. These are 24 cm. square (£660), 30 cm. square (£860) and 42 cm. square. (£1350). All these porices include the engraving.
All models are individually designed for their exact location, with the gnomon at the exact anle of the latitude to the nearest tenth of a degree, and the engraving is selected by the customer (with suggestions from us if needed).
All models are made from 10 mm. marine-grade stainless steel, and are thus resistant to weathering and damage.
Please see www.sundials.info for complete details of weights etc and forpictures of stainless steel sundials in their settings in private gardens, the grounds of schools and libraries, and in visitor attractions
We have 3 sizes of our Spot-On stainless steel sundials suitable for every situation from parks and large gardens to patios or balconies. All models incorporate the "line of light" which is the unique feature of our saundials, and enables them to be aligned with great accuracy so that they tell the correct time year in and year out.